Seoul Welcomes its Largest Incentive Group Yet from China
2016-05-13



Seoul successfully hosted its largest single tour group as part of a week-long incentive trip. From May 4 through May 13, South Korea's capital welcomed some 8,000 Chinese who came to Seoul as part of a major incentive trip from Joy Main Science & Technology, the healthcare unit of the China-based Zhongmai Group.
Because of the sheer size of the group, the incentive trip was split into two large groups of 4,000 individuals each. The first group arrived on May 4 and returned on May 9 while the second group arrived on May 9 and departed on May 13.
The Joy Main incentive tour in Seoul was attained through a collective effort between the Korea Tourism Organization and Seoul mayor Park Won Soon in Beijing in August of last year when they attended the 2015 Beijing Seoul Road Show.
During their trip, both groups enjoyed their time sightseeing at popular attractions such as Gyeongbokgung Palace, Namsangol Hanok Village, and the traditional Insadong street as well as shopping at the popular commercial area of Myeongdong and the many duty free shops around the city.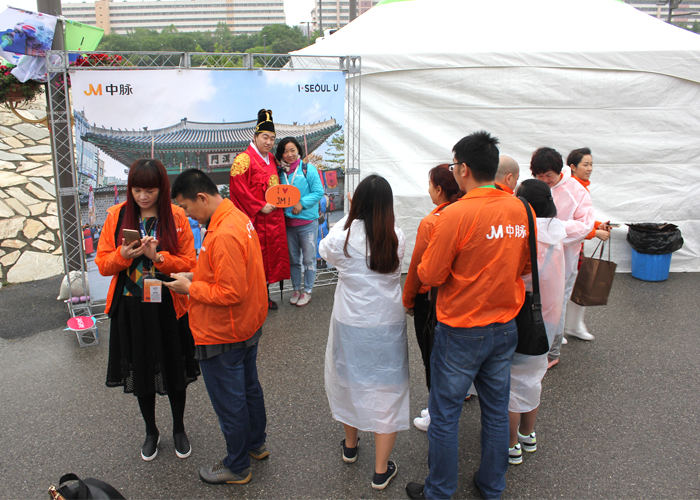 To welcome the groups, the Seoul metropolitan government, the Seoul Tourism Organization, the Korea Tourism Organization, the Ministry of Agriculture, Food and Rural Affairs, and other organizations arranged for two special dinners and concerts for both groups, respectively on May 6 and May 10, by the Han River. Both evening's menu was the Korean stuffed chicken soup dish of samgyetang while the evening performers included popular Korean singers, many who had sang for the soundtrack of the mega-hit Korean television drama Descendants of the Sun which has recently enjoyed immense popularity in China. The samgyetang menu was specially chosen not only for its growing popularity with the Chinese market but also because of recent trade agreements between the Chinese and South Korean governments the dish is anticipated to be available for import in China beginning later this year.
---